Zuckerberg releases the first MR headset! Completely different from Apple Vision Pro.
This September, there will not only be a Technology Spring Festival Gala, but also a grand technology party.
After Apple released the iPhone 15 series, Huawei brought the "Extraordinary Master" brand, and Microsoft officially announced a series of major updates to Microsoft 365 Copilot and ChatGPT, today Zuckerberg also debuted with Meta's annual blockbuster product, and the goal is also Point directly at Apple, Microsoft and OpenAI.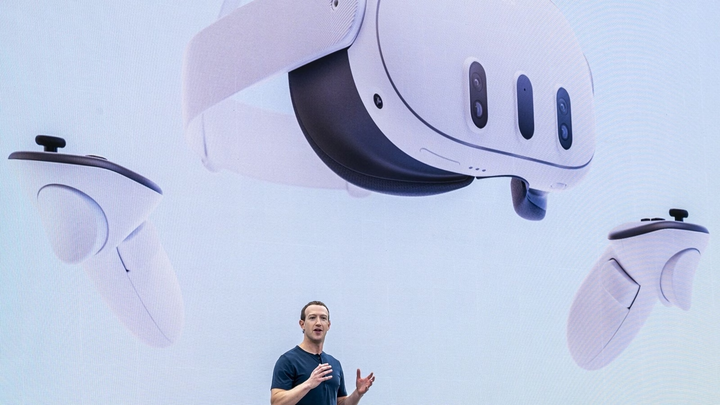 Before WWDC 23 in June, Zuckerberg announced more information about the Quest 3 headset without any morals, trying to compete with Apple's "Vision Pro". Just last night at the "Meta At the Connect 2023 conference, Meta also officially released the Quest 3 headset.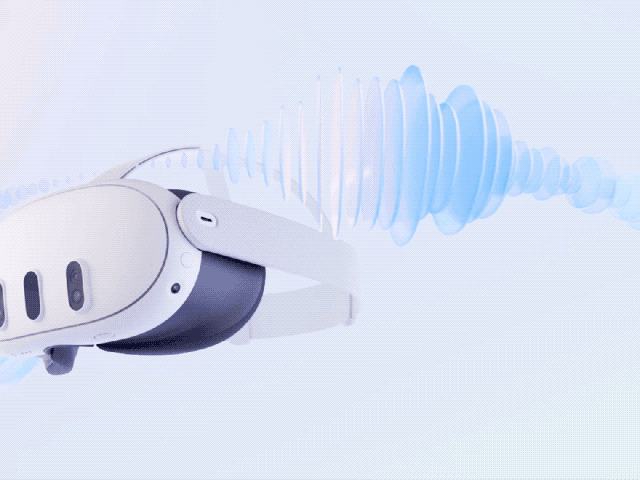 As the successor to the Quest 2, the best-selling VR headset in history, the Quest 3 headset has also received a major upgrade in specifications.
In terms of chips, Quest 3 is equipped with Qualcomm's Snapdragon XR2 Gen 2 chip, which is a chip based on Arm architecture. Its power and energy consumption are similar to mobile processors. The average perspective delay is only 12 milliseconds, and it has 8GB of built-in memory. . Meta says its graphics performance is twice that of the Quest 2 and even better than the Quest Pro, which runs the previous-generation XR2 chip.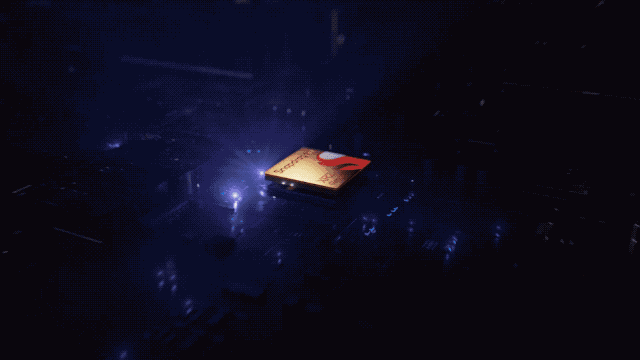 Compared with Quest 2's 1832×1920 resolution, Quest 3's "eyes" use an LCD display with a resolution of 2064×2208, and both displays support 90Hz/120Hz refresh rates. This is the best lens Meta has launched so far. Meta officials said: "The visual effects of Quest 3 are so spectacular that you can't help but want to reach out and touch the world around you."
More importantly, the two new full-color cameras on the front of Quest 3 improve the video pass-through effect. Similar to Vision Pro, you can choose to use Quest 3 in fully immersive VR mode, or you can choose "hybrid" mode. The former puts you immersed in the scene, while the latter allows you to see both the real-world environment and whatever game or content you're watching.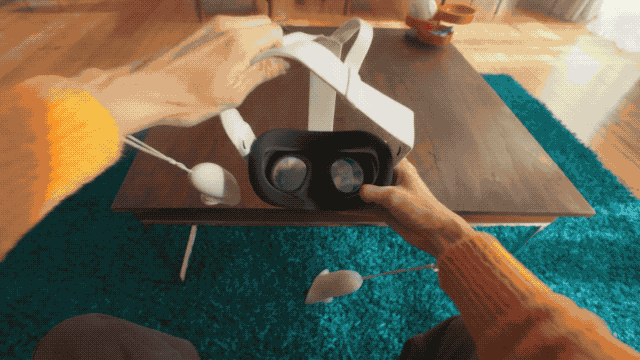 Switching modes is also very simple. You can use the controller or double-click any part of the headset to switch between the two modes.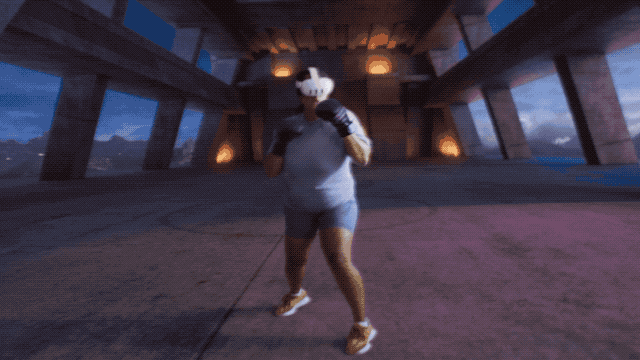 The field of view of Quest 3 is 110 degrees horizontally and 96 degrees vertically, which is about 15% more than Quest 2 and slightly better than Pro. The lenses can also be adjusted using a new wheel on the outside of the headset to make it easier to find a suitable position for different people. Meta says the Quest 3's battery life will range from 90 minutes to 3 hours, depending on what you're doing.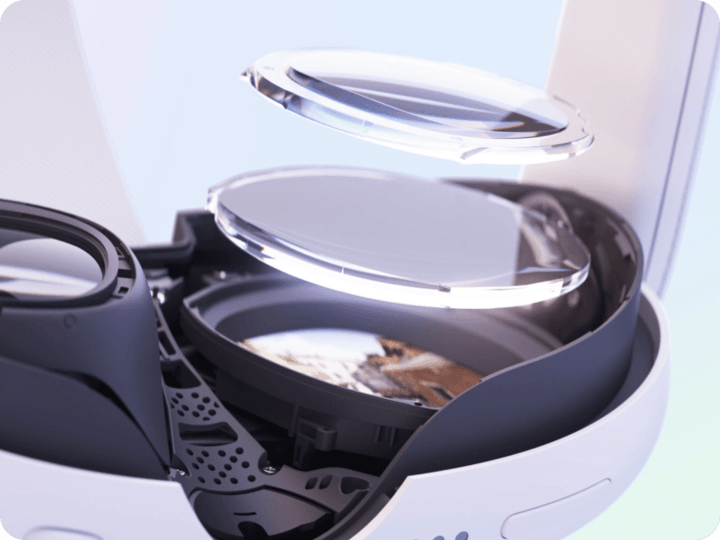 Despite the new Pancake lens, Quest 3 is 40% thinner than Quest 2, but the weight of Quest 3 has not decreased but increased. Last year, Quest 2 was 503 grams, while Quest 3 reached 515 grams.
In addition, Meta said that the Quest 3 has been redesigned to be more comfortable to wear. The speakers on the device have also been improved, with 40% greater audio range than the Quest 2, for an immersive audio experience.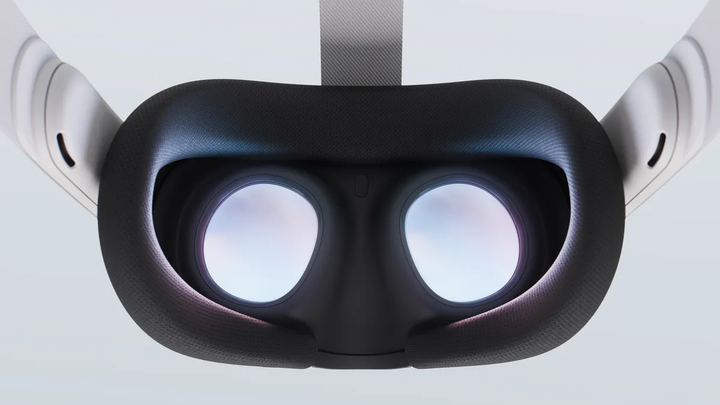 Quest 3's Touch Plus controller eliminates the large tracking ring and instead uses infrared sensors to track position. Of course, the Quest 3 also supports hand tracking, so you can ditch the controller altogether.
Unlike the Vision Pro, which is positioned as a computing terminal, Quest 3 is positioned more like a gaming device. All Quest 2 games can be played on the new headset, including "Ghostbusters", "Assassin's Creed" and Quest 2 developed in partnership with Netflix "Stranger Things" and more. Of course, you can also use it in the field of fitness and health, such as playing Supernatural, which is called the killer VR app.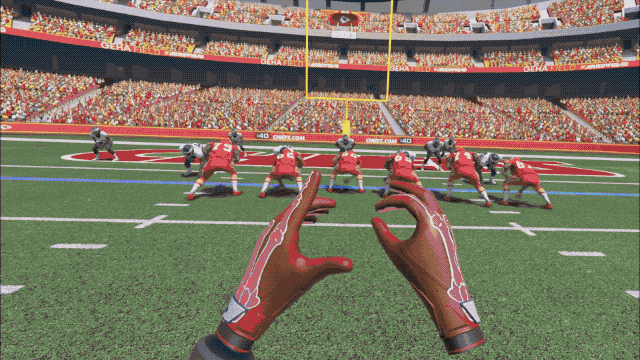 The starting price of Quest 3 is $200 higher than the previous generation. The cheapest 128GB version of Quest 3 is priced at $499.99 (approximately RMB 3,655.42), and the 512GB version is priced at $649.99 (approximately RMB 4,613.12). For comparison, the Vision Pro is priced at US$3,499 (approximately RMB 24,833.14). The Quest 3 is now available for pre-order and is expected to begin shipping on October 10.
In addition to Quest 3, Meta also cooperated with EssilorLuxottica to launch new Ray-Ban x Meta smart glasses, starting at US$299 (approximately RMB 2122.07 yuan).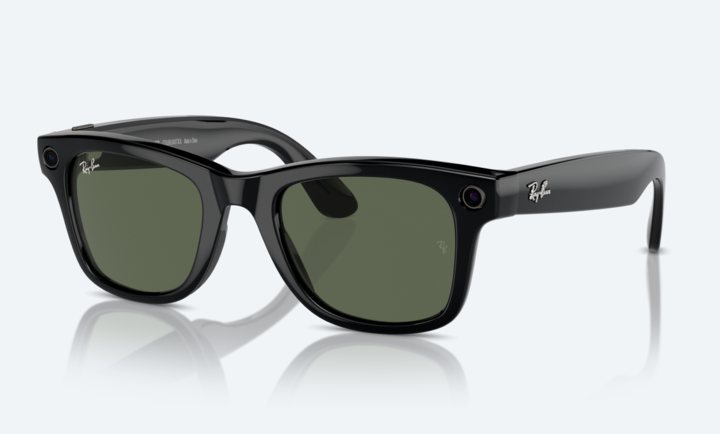 In addition, Meta also announced the launch of a beta version of its chatbot Meta AI. Meta AI can not only generate text responses and images, but can also obtain real-time information through cooperation with Microsoft's Bing search engine. Meta said the chatbot can be used on WhatsApp, Messenger and Instagram, and will be used on Ray-Ban Meta smart glasses and Quest 3.
Quest 3 hands-on experience: MR experience is not yet mature, but the door to spatial computing has been opened
After the press conference, my friend @梦亚Myra experienced Quest 3 for the first time at the scene. She found that the color perspective effect was even better than that of Quest Pro. However, Quest 3 will still experience environmental drift and distortion in the color perspective state. For example, when experiencing a content, if someone suddenly appears in front of you, all the real environment behind this person will also be distorted, and the ceiling and floor will be obviously distorted. When @梦亚Myra goes down the stairs wearing Quest 3, such distortion makes her afraid to step down.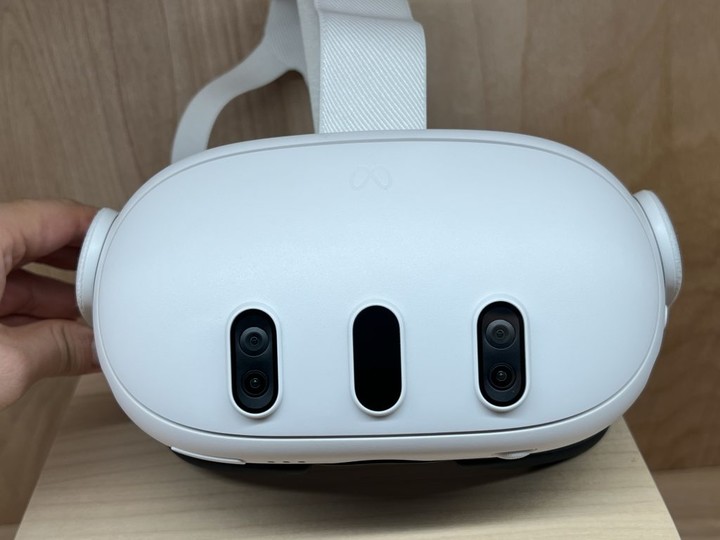 Another obvious impact on the experience is the wearing comfort. Since Quest 3 has canceled the tracking ring, the optical solution has been adjusted from Fresnel lens to Pancake, making it thinner and lighter than both Quest Pro and Quest 2. However, after wearing the Myra for 20 minutes, you will still clearly feel pressure on your face and neck. If you use the special headband of Meta's elite headset, the comfort should be better.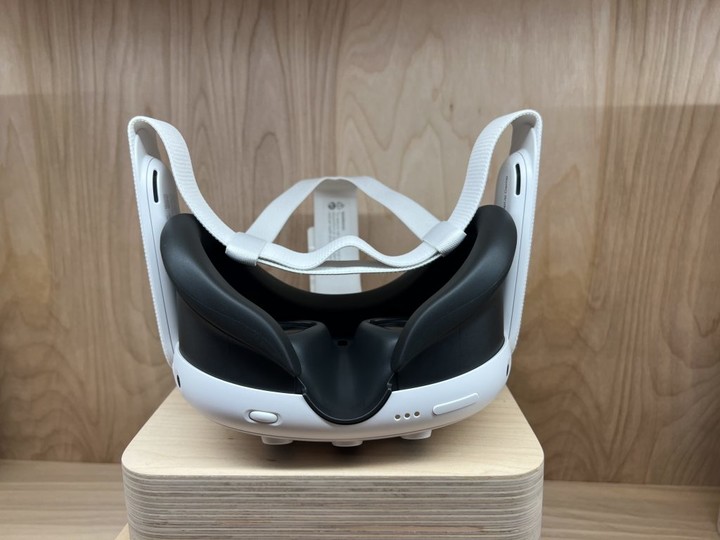 Meta defines Quest 3 as an MR headset. Through the optimization of depth sensors and machine learning, this generation can indeed reflect MR effects in some scenes, but currently the best experience on this headset is VR content. After the screen resolution is increased, playing VR games on Quest 3 is obviously more immersive.
Although there is a significant price gap between Quest 3 and Apple Vision Pro, their positioning is also different. But at the moment, it's unavoidable to compare these two devices. @梦亚Myra told us after experience that for users who mainly use it to play VR games, Quest 3 is obviously more cost-effective, but its MR experience is not that ideal. If you want to try more space applications, Vision Pro should be the best choice right now.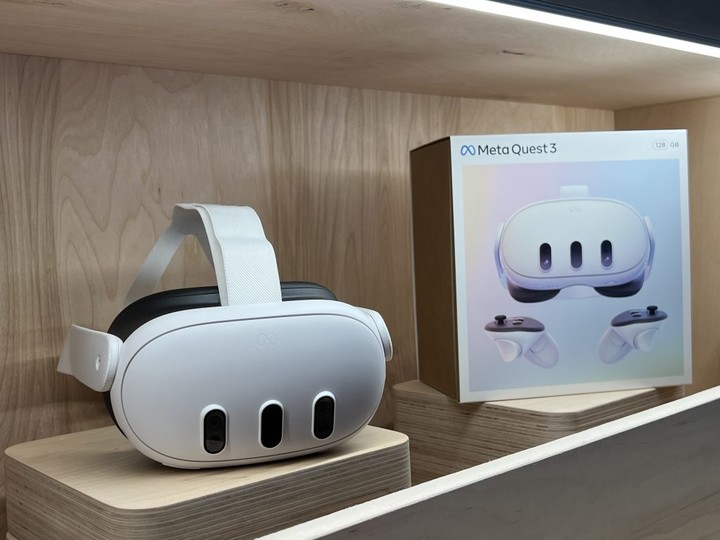 In June, Ai Faner also became one of the first people in the world to experience Vision Pro. Among them, the immersiveness of Apple's headset left the deepest impression on us. Its picture is very clear, there is no screen door effect, and no particles or pixels can be seen at all. It is undoubtedly the clearest headset I have ever experienced. It can be used for reading documents and browsing the web without any problems.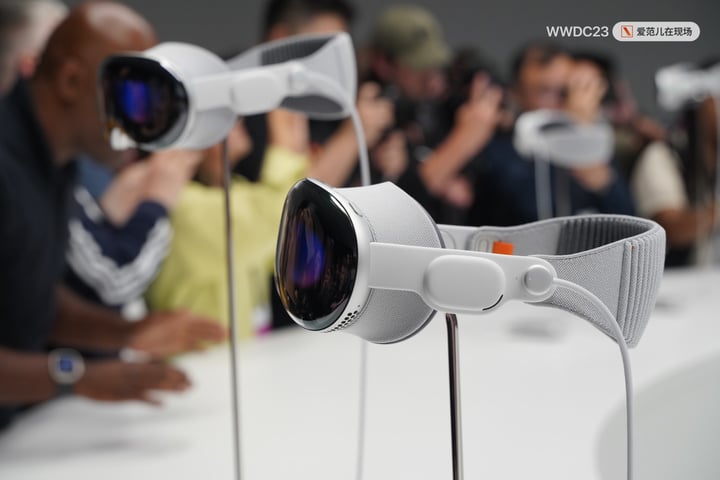 Vision Pro's penetrating field of view is equivalent to the clarity of the Sony a7RIII electronic viewfinder. It is far better than Meta Quest Pro and Pico 4 Pro in terms of color, clarity, and frame rate, but it is still different from the world seen by the naked eye. Big difference.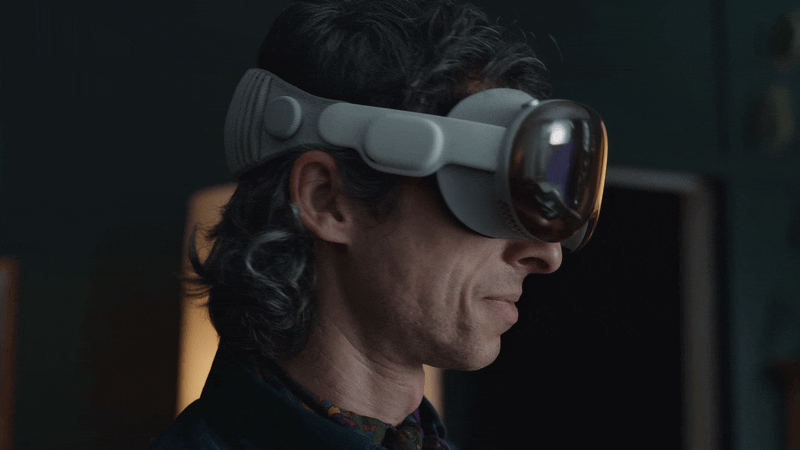 In terms of spatial interaction, in addition to smooth eye tracking and gesture interaction, the spatial application experience is also very three-dimensional. For example, in "Mindfulness", the dynamic effect of virtual breathing fills the entire space, giving me a feeling of being surrounded. With spatial audio, it feels like I am in Teamlab.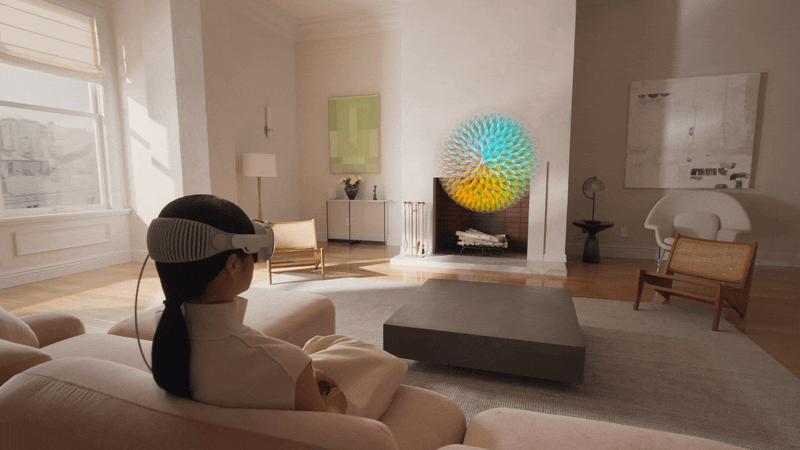 Whether it is Meta Quest 3 or Apple Vision Pro, they can no longer be treated as independent VR/AR headsets.Judging from the demonstrations at the press conference, technology giants are strengthening the connection between headsets and the physical world, allowingInteraction will be upgraded from two dimensions to three dimensions.
However, after many years of development, VR/VR still cannot become a mainstream human-computer interaction interface. There are two huge constraints:
The AIGC era has brought better solutions to these problems. Today, Meta's chatbot, Meta AI, will also be built into Quest 3. This is a bit like Jarvis in the Iron Man helmet. We can Really looking forward to a future like this:
Embed computing into the real world, and the real world into computing, bringing real presence to any virtual space. The most important thing is that we can show our humanity and choose how we experience the world and who we want to interact with.
Although the experience of today's Vision Pro and Quest 3 is not yet mature, and the content supported and the VR/AR ecosystem in the past few years do not seem to have improved in magnitude, the industry has actually changed a lot.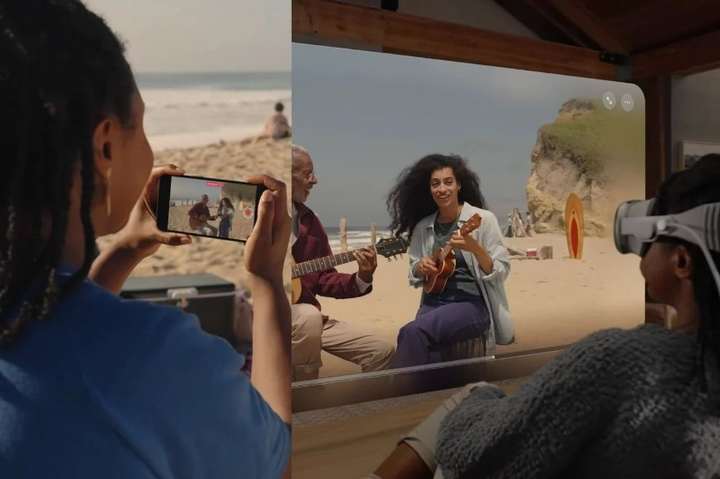 Meta's open source large model, and the integration of AI into the Metaverse. Apple supports "spatial video" on the latest iPhone 15 Pro and has provided a series of tools for developers. It can be seen that these giants are not only making a head-mounted display device, but are starting to build a new ecosystem. This is the biggest difference from the past.
We have already entered the era of spatial computing with one foot.
This article was co-written by Li Chaofan and Mo Chongyu
Special thanks to @梦亚Myra for her contribution to this article
About Author