Thunderbolt 5: A great solution for creators and gamers | Ai Faner
Thunderbolt, netizens usually call it "Thunderbolt", while Apple China translates it as "Thunderbolt".
Considering that this standard is a connection standard created by cooperation between Intel and Apple, we are also accustomed to calling it Thunderbolt interface.
To this day, it is a must-have for flagship computer products. To a certain extent, the number of Thunderbolt ports can also reflect the performance and professional relevance of the computer – the more Thunderbolt ports, the stronger the performance.
According to the official vision, the Thunderbolt interface needs to meet the three-in-one functions of power supply, signal transmission and data, so Thunderbolt 4 naturally has features such as 40Gb/s two-way bandwidth, 100W charging power, and daisy chain technology. .
In short, Lei Li's goal is to "connect everything with one line."
Today, Intel officially announced Thunderbolt 5, the next-generation technology standard for Thunderbolt 4.
To sum up in one sentence, Thunderbolt 5 once again raised the bandwidth limit, bringing bidirectional rates up to 120Gbps.
Thunderbolt 4 supports the output of up to two 4K 60Hz monitors at the same time, which may be enough for ordinary users, but when it comes to more professional scenes, the more display area, the better. Thunderbolt 5 supports the simultaneous output of up to three 4K 144Hz monitors, which can well meet the needs of users in more professional scenarios.
In addition to professional scenes, Thunderbolt 5 will naturally not leave behind gaming scenes. We all know that if we want a smooth gaming experience, smooth display effect is one of the elements. This time Thunderbolt 5 will support a 500Hz refresh rate display. Although there are not many such products on the market and they are relatively expensive, at least Intel provides users with this possibility. At the same time, Thunderbolt 5 will support all types of graphics cards as long as the corresponding driver is installed.
Thunderbolt 5 will support dynamic bandwidth technology. Simply put, when a product equipped with the Thunderbolt 5 protocol is connected to a cable, the bandwidth allocation will be dynamically adjusted according to the usage scenario. If the user uses a monitor with higher bandwidth requirements, the product will allocate more bandwidth. Multiple bandwidths are used for video transmission to ensure good display effects. When the display requirements are not that high, the product will evenly allocate bandwidth to video transmission and data transmission to provide a balanced usage experience.
As video transmission capabilities have improved, data transmission capabilities will of course also improve accordingly. Judging from the official demonstration video, the reading speed and writing speed of products equipped with the Thunderbolt 5 protocol are 6223 MB/s and 5383MB/s respectively, which is more than twice that of the previous generation, and the writing speed has even been increased by nearly three times. . The improvement in parameters represents an improvement in work efficiency. Products equipped with the Thunderbolt 5 protocol will be able to transmit nearly 250G of data in one minute.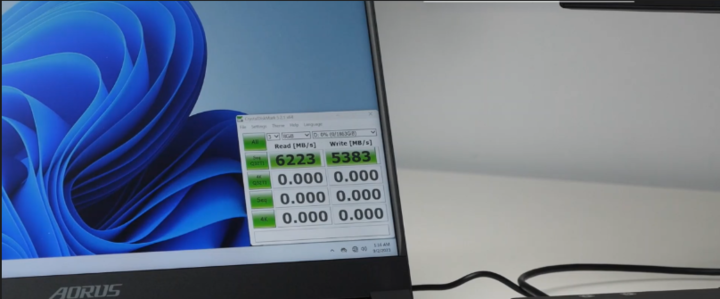 While Intel is bringing huge improvements in parameters, it is also thinking about how to control costs. After all, the most important thing about popularizing new technologies is ensuring that consumers can afford them.
Thunderbolt 5 will be equipped with the same signal technology as USB4*2 – PAM-3. Compared with PAM-4 signal technology, this signal technology has reduced design difficulty and facilitates manufacturers to control costs. Of course, the biggest benefit is that PAM-3 technology is more compatible and reduces the cost of replacement for consumers.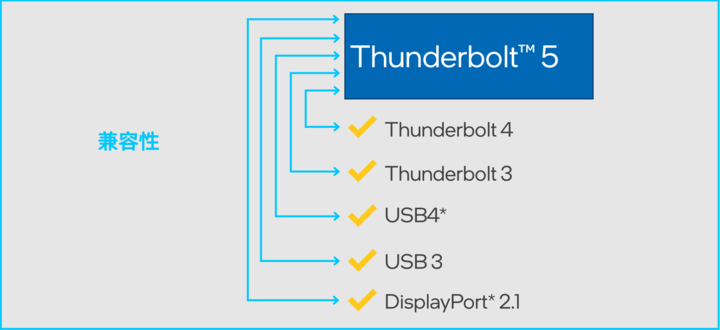 Thunderbolt 5 also supports a variety of Thunderbolt accessories, from docking stations to external graphics cards or storage devices. And due to the increase in bandwidth, products equipped with the Thunderbolt 5 protocol can better support external AI accelerators, which is an update that caters to the trend of the technology industry. But unfortunately, Thunderbolt 5's cable only supports passive cables within 1m, and active cables with a length of more than 1m are still under development (the cost is expected to double).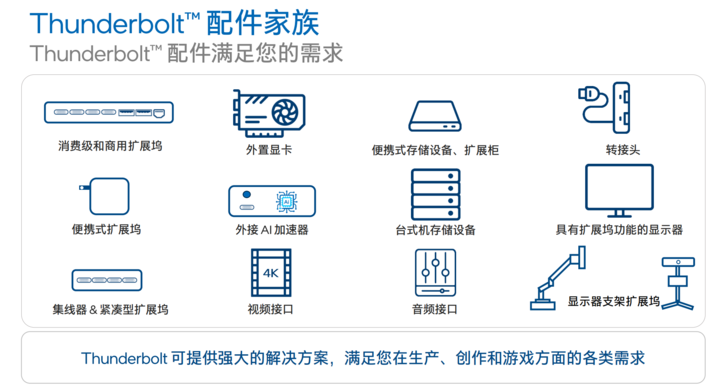 On the other hand, Intel also mentioned that although Thunderbolt 5 is a replacement product of Thunderbolt 4, Intel currently has no plans to replace the latter with the former. Thunderbolt 5 is positioned for more professional use scenarios. After all, not all users have the need to access multiple high-specification monitors or transmit large data in a short time, so Thunderbolt 5 and Thunderbolt 4 will develop in parallel.
The launch of the Thunderbolt 5 protocol brings richer possibilities and wider usage scenarios to consumers, and also improves the user's work or gaming experience. As long as the price is reasonable, this is an update that consumers will love to see. . As technology advances, these innovative advantages will gradually be decentralized.
About Author