The high-end home projection experience will never be the same again.
  [Tianji.com Home Appliances Channel]On the afternoon of September 7, Dangbei held its 10th anniversary press conference, bringing its new flagship equipped with ALPD5.0 super full-color laser technology: Dangbei X5 Ultra 4K laser projection. After several days of warm-up, I believe many consumers are looking forward to the performance of new products and new technologies. After a period of use and testing, the author is increasingly convinced that this Dangbei X5 Ultra can be said to have opened a new chapter for the 10,000-yuan home projection. With the deployment of new technologies and the concept of "volume experience", it can always provide We bring you the feeling of "getting it right in one step". Compared with products of the same level, it is not an exaggeration to say that we are "way ahead".
This leading-edge new product has several notable features. First of all, it is equipped with a Texas Instruments DMD chip and a new generation of ALPD5.0 super full-color laser light source, which brings 4K ultra-high-definition resolution, high brightness of up to 2500 CVIA lumens, and BT.2020-level wide color gamut image quality parameters. . On the other hand, Dangbei X5 Ultra also uses high-performance SoC MT9679, which provides a richer combination of high-speed input interfaces, and is paired with a 6GB+128GB RAM+ROM combination to provide smooth system operation and the experience of installing various software at will.
Our experience is naturally more than just parameters. Next, let us learn more about this Dangbei X5 Ultra through various evaluations.
Appearance design
Before this new product is officially released, we can tell from the few features in the warm-up image that it belongs to the Dangbei X series. While overall it looks majestic and simple, the Dangbei X series also maintains a strong design inheritance. The new Dangbei X5 Ultra naturally brings the latest expression of this design language.
It can be seen that the Dangbei X5 Ultra has a slight structural design adjustment compared to the X5. The lens module is moved to the left side facing the front of the projection and interchangeable with the 3D ToF module. The overall size and weight are compared to the X5. Slightly larger. The surface of the fuselage follows the stamping + finely carved aluminum alloy frame, and is mainly black. It is matched with the top 2.5D glass unique to the X series and the front IML floating panel. The changing surface gloss highlights a calm and high-end texture. .
The main elements on the front of the fuselage are still the projection lens, 3D ToF module and logo. Under the lens on the left is the 4K ULTRA HD silk screen logo that Dangbei X series has always had. The 3D ToF module on the right achieves full coverage of the projected image and provides real-time, non-sensory autofocus, automatic trapezoidal correction, sensor eye protection and other functions. The light golden Dangbei logo is also located in the lower right corner of the front of the fuselage.
Coming to the side of the fuselage, due to the increase in the overall size of Dangbei X5 Ultra, the area of ​​the mesh grille on the side for heat dissipation, air intake and audio output has also increased. There are Dolby sound effect and DTS:X sound effect logos on the upper sides of the fuselage respectively, indicating that it supports the decoding and playback of these two sound effect formats, bringing users a better spatial audio experience.
The rear of the fuselage is still the main interface and heat dissipation area, which is similar to the X5. Dangbei X5 Ultra has DCpower supplyinterface, LAN cable interface, S/PDIF digital audio interface, full-blood HDMI 2.1 interface, 1 USB 3.0 and 1 USB 2.0 interface, and a 3.5mmearphoneinterface. In terms of heat dissipation, the design uses air inlet from both sides and air outlet from the rear. You need to leave some space for it when using it.
Finally, in terms of details on the top of the fuselage, Dangbei X5 Ultra uses the power button + indicator light hidden under the 2.5D glass, and is equipped with 4microphoneThe sound pickup port and the ambient light sensor closer to the middle of the fuselage can automatically adjust the brightness of the projected image according to the ambient brightness after the relevant functions are turned on in the system.
In terms of packaging and content, Dangbei X5 Ultra continues to use exquisite packaging with an "X" element on the side to highlight its flagship attributes.Power Adapterremote control andBatterypaper materials such as instructions, and a soft cloth for cleaning the surface.
The instruction manual is accompanied by a relatively clear and easy-to-understand description of the projection size. The distance from the Dangbei X5 Ultra to the projection surface corresponds to the actual projected image size. The throw ratio of this flagship projector is approximately 1.27:1, and users can also calculate the placement distance based on the required screen size.
Hardware Configuration
For consumers, choosing a projection means choosing a light source. Today, when laser light sources have become a common feature of high-end home projections, the ALPD5.0 super full-color laser technology equipped with Dangbei X5 Ultra takes a new step in experience. ALPD5.0 can be said to be a light mixing technology that combines three-color lasers with three-color LEDs. It not only has the high brightness and high color purity of three-color lasers, but also combines the advantages of three-color LEDs that are less likely to produce speckles and color edges. , presenting users with high brightness, wide color gamut, and a more pure and comfortable picture look and feel.
We mentioned in the previous article that Dangbei X5 Ultra is a DLP projector like the previous generation X series products. The 0.47″ DMD chip it uses is a high-end 4K solution provided by Texas Instruments for micro-projection. It uses pixel dithering technology to provide up to 4096*2160 The standard 4K resolution for movies and the more common 3840*2160 streaming 4K are naturally not out of the question.
The advantage provided by high-end DMD chips is also to carry higher brightness. This time, Dangbei X5 Ultra comes with ALPD5.0 super full-color laser technology, which overcomes the speckle problem of three-color lasers by mixing three-color lasers + three-color LEDs. At the same time, it achieves comprehensive improvements in image quality attributes such as brightness, color accuracy, color gamut, and contrast.
In the new generation of projection brightness standard CVIA, Dangbei X5 Ultra can reach an ultra-high brightness of 2500 CVIA lumens. The overall improvement in brightness and color purity makes it almost fearless of bright environments and provides home users with clear and comfortable images at any time.
In terms of SoC, Dangbei X5 Ultra also uses MediaTek's new generation flagship SoC MT9679, which supports HDR 10+HLG decoding, provides richer high-speed interfaces, image quality enhancement, and MEMC function support, making it compatible with HDMI 2.1, USB 3.0, and WIFI. 6. High-speed wired or wireless connection methods such as Bluetooth 5.2.Compared with Dangbei X5, it also upgrades the RAM+ROM capacity to 6+128GB, which is an unprecedented large operation in the field of smart projection.Memorypaired with the new generation of Dangbei OS 4.0 to further improve the experience, we will also experience it later.
In terms of audio, Dangbei X5 Ultra has built-in dual 12W full frequency under the larger body.SpeakerWith a large sound cavity, it provides a fuller sound quality experience compared to conventional projection products. Supports Dolby sound effects and DTS:X decoding, providing a more immersive spatial audio experience without placement restrictions.
Picture quality experience
Equipped with Guangfeng ALPD5.0 light source, Texas Instruments 4K DMD chip and other hardware, Dangbei X5 Ultra provides a sufficiently high upper limit for brightness, color and other image quality performance. This level is currently unique among 10,000-yuan home projectors. So can this new flagship product deliver outstanding performance in actual use? Let's take a look together.
Next, we will use some test materials and shooting samples to experience the color and other comprehensive image quality performance of Dangbei X5 Ultra. We choose a white wall and project an approximately 85-inch screen from the front. The effect of the shooting samples is due to multiple digital conversions and web page changes. Compression and display device performance vary and are for reference only.
Using the basic color pyramid to conduct a color transition perception test, it can be seen that Dangbei X5 Ultra brings better brightness and color performance than the projection products we have evaluated in the past. It has good chromaticity distinction in the picture. Different areas in the picture The color blocks are clearly divided and have a good look and feel.
In the fruit and vegetable pictures, Dangbei X5 Ultra can bring full colors and a realistic look and feel. The screen has excellent color reproduction and same-color contrast. Thanks to ALPD5.0 light source technology, details such as surface water droplets and luster are fully captured. reserve.
Through an HDR sample, we can further appreciate the image quality of Dangbei X5 Ultra in displaying such high-quality content. ALPD5.0 technology brings Dangbei X5 Ultra up to REC.709 206% and DCI-P3 152%. , BT.2020 110% color gamut value, and also has mass production color accuracy performance of color accuracy Delta E<1, and has obtained TÜV Süd professional color accuracy certification.
Ultra-high brightness, color, color accuracy and 4K resolution enable Dangbei X5 Ultra to provide a look and feel that previous home projection products could not match when playing HDR movies. The dazzling sunlight and deep starry sky are well displayed in the sample. It can be said that Dangbei X5 Ultra has excellent HDR content presentation capabilities.
As an essential function for streaming movies and games, MEMC motion compensation can compensate online or local low frame rate video resources to a high frame rate that is more comfortable to watch. Set the motion compensation function of Dangbei X5 Ultra to the default strong setting and select part of the dynamic picture content to take sample photos. It can be seen that the moving parts in the picture are smooth, the details are clear, and edge distortion, ghosting and other phenomena are rare, which can provide users with smoother premium viewing experience.
More image quality test samples are as follows:
Equipped with ALPD5.0 super full-color laser technology, Dangbei X5 Ultra is unprecedented in terms of picture quality experience for projection within 10,000 yuan. With this unique skill, it can be said to be "way ahead".
Dangbei OS 4.0 experience
Dangbei uses large screen software andoperating systemThe tenth anniversary since its founding is also the tenth anniversary of software as the starting point. With the release of Dangbei What upgrades are coming?Let's see together
The homepage of Dangbei OS 4.0 has changed a lot compared to the previous version. While the interface is still simple and refreshing, the windows, cards and fonts have become more delicate. Perhaps it is for the 4K UI effect provided by the flagship X5 Ultra, which is naturally better in look and feel. 1080P UI interface for most home projectors and TVs.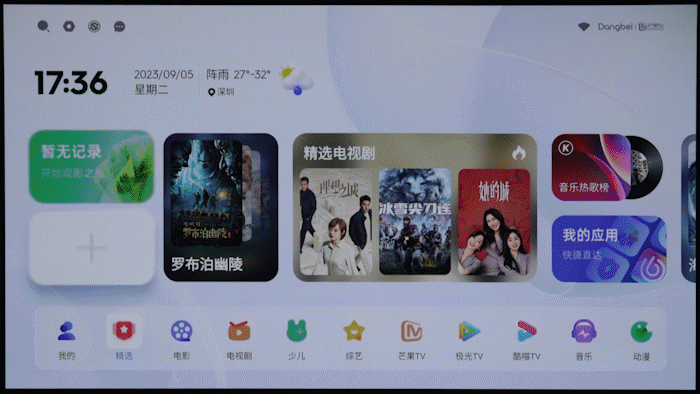 The new Dangbei OS rearranges content partitions in the horizontal area, and increases the number of partitions displayed on the same screen, making user control more intuitive.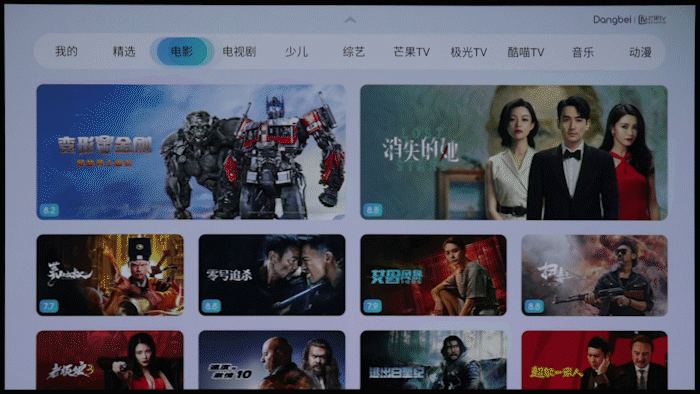 The form of vertical content flow is also similar to that of common TV systems, and is accompanied by segmented content such as popular movies and TV shows, high-scoring theaters, etc. screened by the system. At the same time, the content flow is not endless, but provides entrances to classified exclusive partitions at the bottom. Make the homepage more concise and smooth.
While the homepage layout is changed to horizontal content partition + vertical content flow, Dangbei OS 4.0 also provides two style options. One is to directly display the current film and television content selected by the system, and the other is for user-customizable functions. , content, and area smart cards.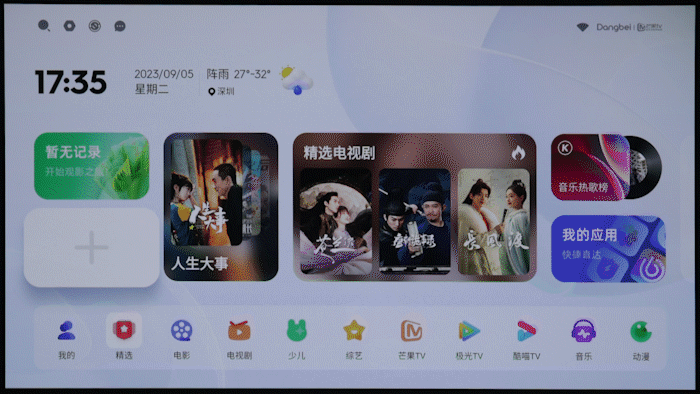 We have also seen this kind of highly customized large-screen interface on other TV products. Its advantage is that people who are familiar with it can use it more easily, and can directly access points of interest with simple operations. Of course, in the early stages of getting started, Users need to spend more time laying out cards and subscribing content. However, even without further operations, the existing basic partition + content layout is similar to most large-screen operating systems we are familiar with, making it very easy to get started.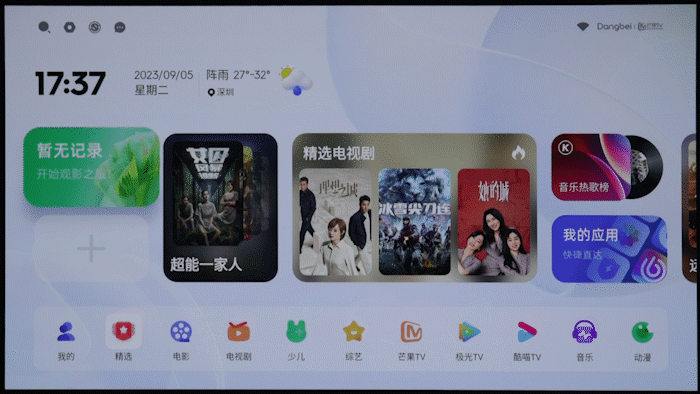 In addition, Dangbei OS 4.0 equipped with Dangbei X5 Ultra also inherits the previous children's mode and elders mode, respectively providing healthy and interesting content exclusive to children, as well as a homepage with larger fonts and more readability.At the same time, a unique camping mode has been added. This scene mode focuses more on multi-person interaction and atmosphere creation, and can quickly start the Dangbei X5 Ultra.Bluetooth SpeakerFunctions, as well as enabling photo walls, interactive barrage, screencasting, multiplayer games, etc., have outstanding fun attributes.
As the flagship product of Dangbei's X series, Dangbei OS 4.0 naturally also provides an X Vision 4K content area, which concentrates exclusively introduced 4K genuine lossless content, giving full play to the image quality strength of this new flagship home projection.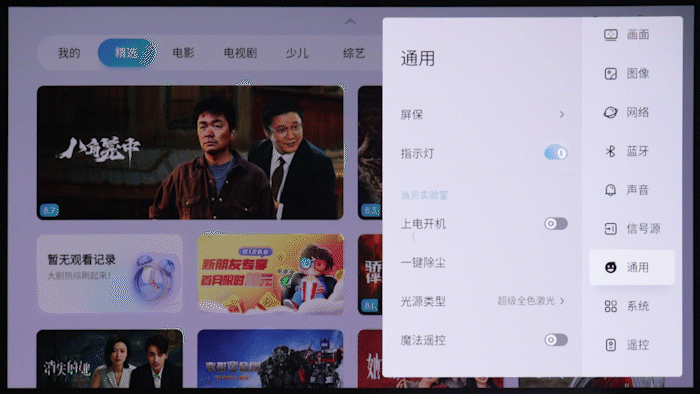 Along with ALPD5.0 technology, Dangbei X5 Ultra is also equipped with a separate light source mode selection function in the system, which can be enabled in the Dangbei laboratory function, providing super full-color laser, full-color LED, and mixed light modes. In actual use, the super full-color laser mode naturally has the best brightness and color effects. The full-color LED mode is similar to conventional LED projection, and the mixed light mode is the effect of red laser + three-color LED.
Innovations in interface, function, content, fluency and scene matching make Dangbei OS 4.0 also surpass the traditional model and take a new step in the evolution of the projection system, which also won it the 2023 Red Dot Design Award. In the future, Dangbei OS will also open more creative functions through OTA, including more scene modes, screen touch, etc.
Experience video
Combining the image quality characteristics mentioned above and the image correction function equipped with Dangbei X5 Ultra, we focused on video to demonstrate the experience.In the two main usage scenarios for home users, watching movies and watching games, Dangbei X5 Ultra can provide users with a high-quality visual experience by virtue of hardware advantages such as ALPD5.0 and ultra-high-definition resolution. Combined with home projection, the screen can be freely expanded Boundary, throw a hundred
About Author