In the test 15 years ago: The Scythe Musashi was the almost perfect VGA cooler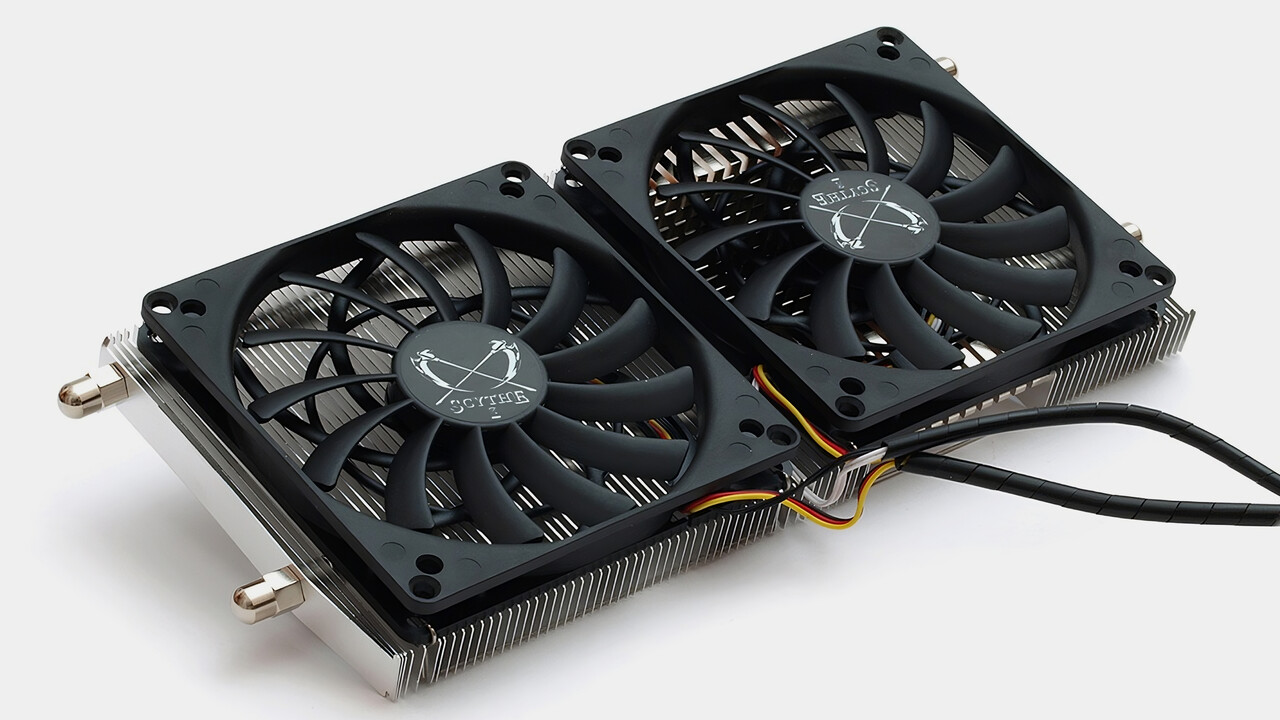 With the Musashi (test) The manufacturer Scythe, known for its CPU coolers, entered the VGA cooler market 15 years ago. Thanks to its good cooling performance, broad compatibility with various graphics cards, slim design and affordable price, it cut an excellent figure in the test.
Wide range of mounting options
The Scythe Musashi was a single-slot cooler that featured two 100mm fans, each operating at 800 to 2,000 rpm. The dimensions of the cooler were 104 × 250 × 35 mm (W × L × H) including the fans with a total weight of 375 grams. The waste heat from the GPU was dissipated via a nickel-plated copper base via two 6 mm heat pipes to a construct made of aluminum fins . One feature that set the Scythe Musashi apart was its wide compatibility with graphics cards from the GeForce 5900 to GeForce 200 series, as well as from 9000 series Radeons to HD 4000 series models. The recommended retail price for the Musashi when it was released was 34.90 euros.
Installing the Musashi was easy despite the large number of compatible graphics cards. After applying the self-adhesive passive cooling blocks, all that was needed was to spread the thermal paste on the GPU and locate the drill holes on the cooler that correspond to the graphics card. Mounting pins were then inserted through these drill holes, the cooler was put on and screwed in place using a backplate. In the test, the cooler was installed in less than five minutes.
Decent cooling performance at low noise levels
The Musashi looked very good on an MSI GeForce 8800 GTS 320 OC. In terms of cooling performance, it was only beaten by the Arctic Cooling Accelero Xtreme and the Xigmatek Battle Ax. Both were not only significantly more expansive, but also significantly louder. While the Musashi reached a GPU temperature of 46 °C at a sound pressure level of 36.9 dB(A), the Accelero Xtreme reached 41 °C at 43.6 dB(A) and the Battle Ax reached 44 °C at 42 .0dB(A). At 65 percent fan speed, the Musashi still achieved a GPU temperature of 49 °C at just 31.4 dB(A). At the latest at 40 percent speed and 30.5 dB(A), the Musashi was virtually inaudible and still achieved a completely acceptable GPU temperature of 53 °C under load.
About Author